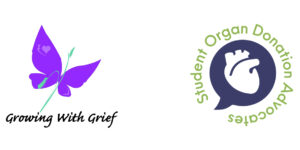 There have been a lot of big things happening over at Growing with Grief and I'm so excited to finally get to share them with you!
Through my memoir, Boldly into the Darkness, I was able to make a connection with Student Organ Donation Advocates (SODA), an amazing 501(c)(3) non-profit organization. SODA believes students represent a promising segment of the population to become educated about the critical need for organ and tissue donation, and they work to mentor students to host events and educate their peers about organ and tissue donation. SODA provides chapter support, supplies, and funding to chapters for education events and registrations drives while working with organ procurement organizations (OPOs) to strengthen their volunteer programs by providing a structured and impactful way for students to get involved. Since SODAs founding in 2014, over 1,900 college and high school students have registered to become organ donors and 43 SODA Chapters have been established across the US. I am happy to announce that beginning in 2022 I will get to work with SODA as one of their Board Members.
One of my first efforts with SODA is a fundraiser to bring Growing with Grief and SODA to the 134th Rose Parade! If you've ever watched the Rose Parade, you may have noticed that Donate Life builds a float at the Rose Parade to promote the life-saving power of organ and tissue donation to the 700,000 people who attend and the 37 million people who tune into the Rose Bowl celebrations.
In order to fund that float, loved ones of deceased donors, living donors, and recipients can partner with OPO and non-profits to apply to be a part of the float. In order to apply to be a part of the Rose Parade and this powerful movement, we are working with SODA to raise $12,000 to sponsor a floragraph (a portrait created using floral materials) on the float and SODA has determined that our own Rylee Marie Jackson would be honored and I would be selected to share her powerful story, along with the work of SODA and Donate Life, to encourage others to give the gift of life.

We're hoping you will join us in saving lives by contributing towards this important initiative! This campaign will continue through May, so please support us if you can and share this email and our social media posts with all your friends and family. If our application to participate in the Rose Parade is not accepted, all money raised will be used by SODA to share stories of organ donation, including Rylee's, and to save lives through organ and tissue donation advocacy. Learn more about how SODA saves lives at sodanational.org. If you are able to donate, let me know at Growing with Grief on Facebook, Instagram, Twitter, or through email. You may find yourself entered into a future Growing with Grief giveaway!
SODA: Student Organ Donation Advocates is a Section 501(c) (3) charitable organization, EIN 83-3491318. All donations are deemed tax-deductible absent any limitations on deductibility applicable to a particular taxpayer. No goods or services were provided in exchange for your contribution.