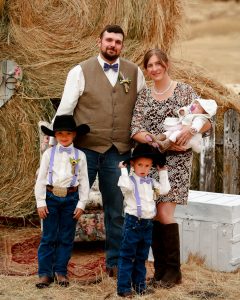 We are a family that has been forged in the darkness of grief and have been made stronger because of it. In 2015, my husband of 5 years, Joe, went for a run and literally dropped dead. It was eventually ruled unknown natural causes. The heart in his healthy, athletic body just stopped and I was left alone with a 3-year-old and a newborn.
While I was learning to live with my grief, an acquaintance, Kyle, gave me support and understanding I had not found anywhere else. Kyle became my grief person. That one person I could talk to about Joe, his death, and my grief, and never have to worry about shocking him or being judged by him. A person I didn't have to wear a mask with.
Over time our friendship grew, we were married, and added a beautiful daughter to our family. Unfortunately, our daughter passed away at just 3 months old.
Our family has been broken and rebuilt time and again. We have learned how important it is to go through the process together, holding each other up. With each loss, we have had to learn how to live with it, how to grow while grieving, and perhaps most importantly how to hold onto happiness in spite of it. To find a light in the darkness.
One of the ways we find our light is by using our story to help others, and by sharing resources we have found beneficial. Hopefully, we can provide a little light for you as well.
Always Remembered. Always Loved.